Voice Communications: Voicemail Systems
In today's competitive environment, Hi-Tech can serve as your partner, providing customized services and solutions for your communications needs.
  VoicemailSystems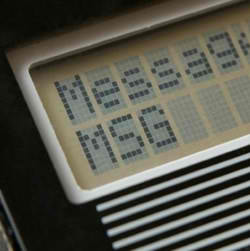 A cornerstone to your telecommunications system is the ability to receive calls even when you are not available. Voicemail systems are designed to convey a recorded audio message to a recipient. To do so they contain a user interface to select, play, and manage messages; a delivery method to either play or otherwise deliver the message; and a notification ability to inform the user of a waiting message. Most systems use phone-networks,either cellular or land-line based, as the conduit for all of these functions. Some systems may use multiple telecommunications methods, permitting recipients and callers to retrieve or leave messages through multiple methods.
Simple voicemail functions as a remote answering machine using touch tones as the user interface. More complicated systems may use other input devices such as voice or a computer interface. Simpler voicemail systems may play the audio message through the phone, while more advanced systems may have alternative delivery methods, including email or text message delivery, message transfer and forwarding options, and multiple mailboxes.
Notification methods also vary based on the voicemail system. Simple systems may not provide active notification at all, instead requiring the recipient to check with the system, while others may provide an indication that m
essages are waiting.
Almost all modern voicemail systems use digital storage and are typically stored oncomputer storage devices.
Hi-Tech Enterprises offers many Voicemail options - and each can be custom tailored to meet your specific needs. Once your program is installed, each can be programmed to your specific needs for message notification, e-mail alert or text messaging. Call us today for specific details how we can solve your Voicemail Communication desires.